Post by Lone4eagle on Apr 17, 2007 21:08:27 GMT -6
I live on the edge of what was a village of Indians. Not sure how old the site is where I'm located. The main part of this village had been farther east, located by a historic preserve on the river. I am near the river, but west a few miles and private land. One stone happened to be in mom's flower bed.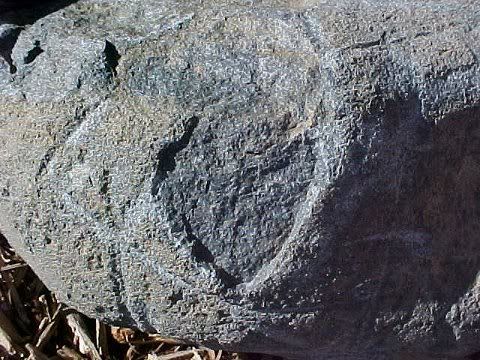 This has a heart like seen on the plains style smoking hawk plus Buffalo horns. There are some markings also which sure look like Runes. Depends on how you look at them. Sometimes everything appears to be connected as a grid work.
Here what looks like the capital T, with a head on it, also becomes arrow shape when tilted foward or just as a Tiwaz Rune which means "Sky god".
(edit here, had to stop because getting late. Top photos are the same stone. The other 2 are shown below.)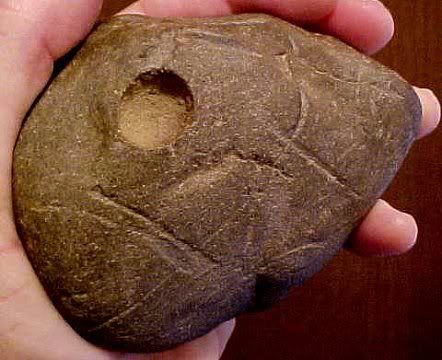 You can see the bow drawn with an arrow, maybe the rounded hole was used to shape the end of arrows. It feels abrasive to the tip of my finger. The raised up carved shape is identical to the other stone shape I've found shown below.
(edit here, I realize what the shape is. There is a combination of 2 shapes, the warrior and drawn bow, an arrowhead with point at bottom of bow. This shape maybe altered to represent warrior's animal too. The part of arrowhead that attaches to the arrow is sometimes offset so as not to hide the bow curve. The photo above as held has the warrior shape, shaft side down. On the stone below, the surface up is the animal and on the reverse is the warrior, bow and arrowhead.)
This morning a hawk was in the garden, it ate a rabbit which caused problems for mom. Mon was so glad because of all her garden plants and flower bed plants the rabbit has eaten. I was still sleeping, but mom walked up to the hawk to see if it was the rabbit. Mom then walked around to the other side of hawk, flapped it's wings moving to where mom was before. She now could see that hawk had the rabbit. Mon left the hawk to be alone and finish eating. I believe the stone is connected to the hawk, in some way.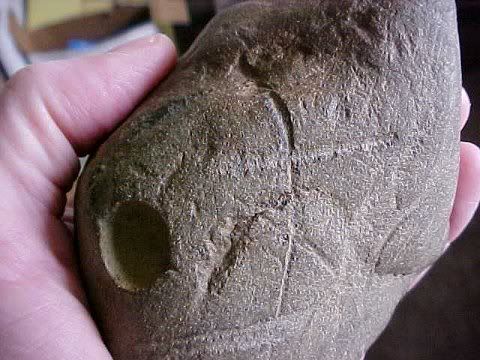 You can really see the bow curve here.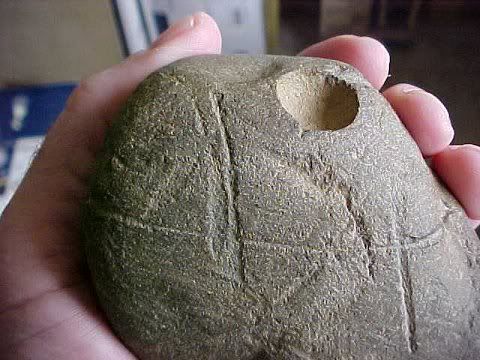 View from opposite direction.
I made the stone wet with water, shows details of a 4 directions and diamond outline to the right.
A close-up of the rounded hole, the mineral is Glaucophane. I know because of the fact I've had a sample assayed once. The stone is in the Amphibole mineral class, a group of related minerals such as Nephrite Jade and Serpentine.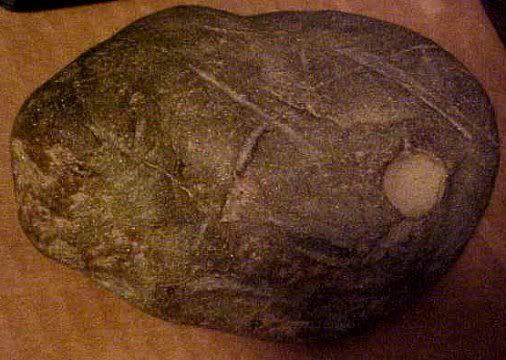 There is a heart shape on the inside curve of hooked beak.